12/1/23 Update:

Due to continued issues with this glitch we have temporarily disabled the Shipping Cost Estimator feature in the Cart page (shoppingcart.asp).

Shipping methods and costs can be shown in Checkout (one-page-checkout.asp) without the need to fill in all shipping address information - only the ship-to State, Zip/Post Code, and Country are required for the rates to display.

If you still experience issues entering your payment information in Checkout, please continue to email information regarding these instances to Webmaster@StarlinksGifts.com so we can compile troubleshooting data.
For order placement, email Felicia@StarlinksGifts.com or call during normal business hours (MST): 1-800-867-4344.

---
DATE: OCT 1 2023 -- CART GLITCH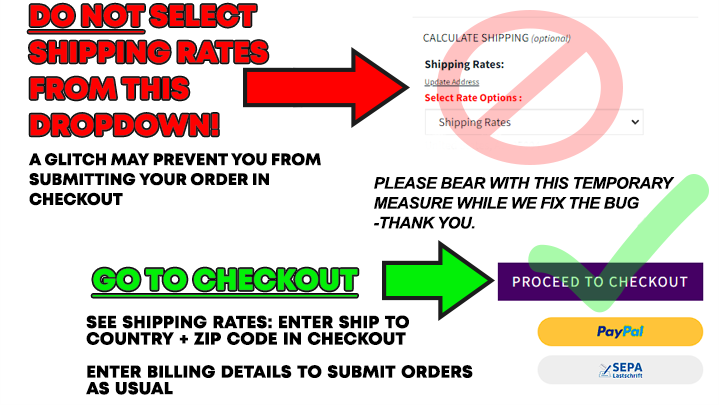 ---
INFO: We have been informed of an issue and upon investigation, discovered it is a software bug/glitch that can affect the ability to checkout.

The issue occurs if customers attempt to utilize the Calculate Shipping rate estimator in the Cart page (shoppingcart.asp).
We understand this is a valued & convenient feature all customers like to use, but for the time being, please DO NOT USE the Calculate Shipping box in the Shopping Cart.

Instead, go directly to the Checkout page ( one-page-checkout.asp) by clicking the Proceed to Checkout button in the Cart page.

In Checkout you can view/select the shipping options and prices prior to inputting any financial information; only the ship-to postal/zip code, country and selecting Residential or Business option is necessary to view your shipping costs.

You may then complete checkout as normally done.

Thank you for your patience and understanding as we work to resolve this issue!

If you didn't follow this recommendation and are unable to checkout, please contact us here: Webmaster@StarlinksGifts.com




FAQs
Q: What happens if I have a promo/discount code?
A: Nothing changes. Enter the code on the Cart page as you normally would.
Q: What happens if I ignore this notice?
A: The glitch interferes with estimated shipping costs properly passing through to Checkout. As a result, once you go to Checkout your prior shipping selection is frozen and causes an error with the code. That coding error can prevent you from being able to add or input your payment selection. Without a form of payment, the shopping cart software will not allow you to submit an order, instead you may receive an error message:
"Please fill in the field: Payment Method".
If you are experiencing this issue as you attempt to checkout, please email Webmaster@StarlinksGifts.com for instructions how to bypass the error.


Q: How long is it going to take to fix this?
A: We have informed the software developers of the glitch but do not have an ETA as of right now.


Q: What if I come across a different technical issue than what's described above?
A: Please email: Webmaster@StarlinksGifts.com.
Include an error messages you received, and explain what happened, as well as what Web Browser (Chrome, Safari, Edge, etc.), Device Type (PC, tablet, mobile phone, etc.) , and OS (Apple, Android, Windows, etc.) you were using.