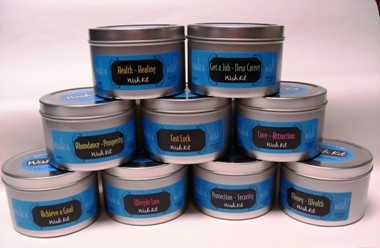 Wishing is a tradition as old as time. Think about your first wish upon a falling star or the birthday wish we make at the passing of each year. Starlinks' Wish Kits build upon that tradition by offering complete kits to empower and manifest your dreams. Just add your intent!
Handcrafted in the USA during the appropriate lunar phase for active realization, each kit contains simple to use instructions and all the ingredients necessary to empower your wish to manifest your desire. Remember a wish that is spoken of to others is rarely granted!
Kit includes: Detailed Wish Kit Instructions, Words of Power paper, Wish Stones, Candle, Candle Anointing Oil, Candle carving tool, Incense Holder, Incense, Sacred Salt, Binding String, Velvet Pouch, and Reusable Tin. Handcrafted in the USA.